Mechanical & Systems:
The system in this house is complete with 3 tonne air conditioner; propane forced central heating, hot water on demand and HRV system along with fire place in living room and bedroom.
Plumbing throughout the house is color coded pex. (red for hot, blue for cold and clear after mixing valve). There are 5 full bathrooms, all with energy efficient toilets, sinks, showers and baths.
In addition, extra plumbing was installed for a four man sauna, and six man hot tub.
A 400 amp service equipped with back up generator panel for power outages.
90 % of all lighting in the house is pot lighting. There are over 80 pot lights throughout, ranging from 2 inch to 6 inch bulbs – all are 5 to 14 watt, very energy efficient LED.
The remaining lights throughout the house are a mixture of LED, fluorescent, and incandescent.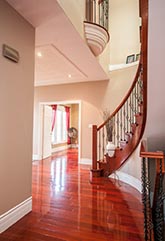 All appliances have an energy star rating.
On the floors there is a mixture of carpet in bedrooms, granite in wet areas, and solid Brazilian cherry hardwood in all remaining areas. Drywall, latex paint through out.
Overview and Scope: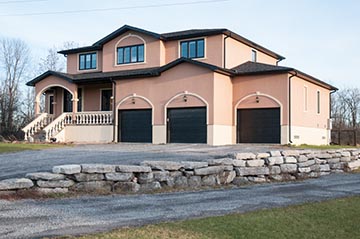 This custom built home with matching workshop was started in 2008 and took 1.5 years to complete.
It is built 300 feet back from the road on 3 acres of open land and features 5700 square feet of living space + garage and a 1300 square foot workshop. The home is
built on a 2100 sq ft foundation and finished basement with a 2100 sq ft main floor, 1500 sq ft second floor and an
800 sq ft 3 car garage. The 1300 sq ft workshop is a further 100 feet beyond the house.
The interior includes 5 baths, 6 bedrooms, to living rooms, dining room, library, games room, cold room, first floor and second floor foyers and 9' high ceilings on all 3 floors.
Design Approach: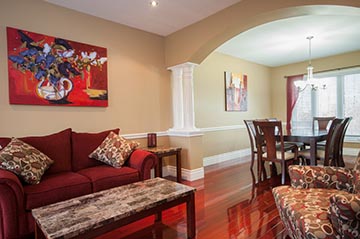 The design and style of this home was inspired by Mediterranean and Spanish style homes. The goal was to design and build a home with the aesthetics and look of the style while maintaining the energy efficiency and functionality of Ontario built homes.
This house has an average R value of 50 in ceilings and 35 in walls. All framing of 1st and 2nd floors consists of pre engineered floor joist systems, trusses and wall framing. The entire house is insulated with poly urethane spray foam and roxall batt insulation. The exterior of the house is 360 degree wrapped with 2 inch Styrofoam bead board for the application of the plaston stucco system.
| | |
| --- | --- |
| | |
| All three floors feature 9' high ceilings. | Hardwood flooring is Solid Brazilian Cherry. |
| | |
| Front Entrance Detail. | The kitchen cabinets. |