Mechanical & Systems

The mechanical equipment for the 5 Star restaurant Aqua Terra the 126 guest rooms and all the common areas of the newly renovated hotel topped out at just over $1,000,000 and involved digital and highly efficient energy saving equipment.
Although in the beginning stages of this project all the plumbing fixtures were slated to be upgraded to more modern and efficient ones. The actual re-plum of hot, cold and recirculation lines was not part of the original plan. Once the work began we realized it would be the smart move to upgrade all the plumbing lines as well, considering the extent of this renovation. We had our engineers design a complete new plumbing plan that not only would become more efficient in its day to day use, but would also be efficient in energy savings and still keep up with a very modern and sleek design that belongs in the new Delta Hotel.
With the advanced lighting systems and all the other electrical upgrades in place, the City of Kingston can now boost being home to a very energy efficient Delta Hotel.
The hotel now has over 700 high efficiency LED pot lights. All halogen and incandescent bulbs were replaced for either the LED or fluorescent pin style bulbs.
Now when you step into the new, modern lobby of the Delta, you will be walking through a 30 foot long corridor with a 10 foot high glass wall of gorgeous blue lighting. The new the 20 foot long bar, wine rack, 8 foot high water wall, and even front check in is LED is filtered light throughout.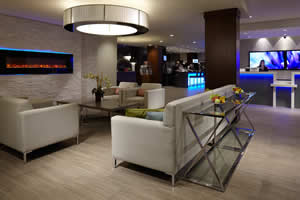 Without a doubt the new Delta is one of Kingston's most modern buildings. Every aspect of this project contributes to the whole but in this writer's opinion the interior finish is world class modernization. Walking through the hotel you will come across automatic: doors; lighting; and plumbing fixtures; Even a flat screen TV that rises from behind a gorgeous fireplace with just a push of a button. All surfaces on the desktops, night stands, bar tops and even window sills is of the highest quality Caesarstone. The use of solid walnut hardwoods, quartz tile, glass walls and even queen size Murphy beds that "hide away" behind artwork sets the bar above other hotels.

Overview and Scope: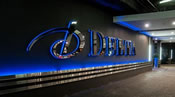 Acting not only as the general contractor but also lead project management. This $8,000,000 project is the largest project to date for Collinson Custom Building & Carpentry. In November of 2012 we walked into what was then a 3 Star Radisson Hotel and began the construction plan to completely gut and renovate the 7 storey hotel. The Radisson was going to become Kingston's first 4 Star rated Delta Hotel.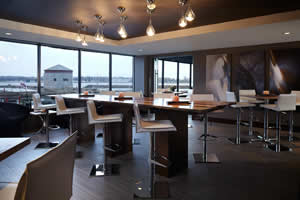 The location of this hotel is set at one of Kingston's finest waterfront locations with a 3 sided panoramic view of Fort Henry, St. Lawrence and Lake Ontario.

Design Approach: 

Switching brands meant working very closely not only our own architects, engineers and designers but also adhering to a very detailed design plan set by Delta. The entire hotel was going to be striped down to its original poured concrete structure done in 1985. The complete renovation included all new electrical, HVAC, plumbing, drywall, wallpaper, furniture, fixtures and lighting. While at the same time changing the room layouts throughout.